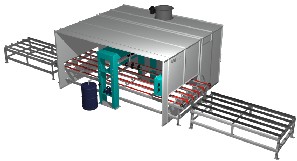 Spraying System
Drying System
Edgetech's automatic adhesive spraying and drying systems are designed for the spraying of substrate panels and laminate sheets with contact adhesives.

These systems can be designed for water base or solvent base adhesives and can be built in many configurations and levels of automation. The design of the spray booth includes a full height filter wall that accommodates solvent or water base contact adhesive applications.

Each system is designed and built to meet your specific production requirements.